Reliable, Fast, Affordable Plumbing & HVAC Services!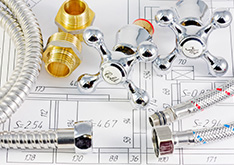 Serving Belleville, Trenton, Picton, Stirling, Tweed and surrounding areas, our certified plumbers and technicians can handle all your mechanical needs - from a drippy tap, a broken furnace, or right up to a complete install in a new home and anything in between. Our plumbers and technicians are fully trained in the latest advances in the industry and utilize the best equipment in order to ensure you of a quality job.
Rest assured, the Tasmont Plumbing, Heating & Air staff will conduct themselves in a professional manner and each task will be performed to the highest standards.
Visit our Residential Projects Photo Showcase
Complete Plumbing and HVAC Installations
New Construction Installations
Renovations
Camera Inspections
Toilet/Tap Repairs
Furnace Repairs
Pipe Repairs/Leaks
Main water and sewage line replacements
Sump Pumps & Sewage Pumps
Hot Water Tanks
UV Lights, Water Softeners, Reverse Osmosis Systems
Boilers
HRV/ERV Installations and repairs
Submersible Well Pumps & Jet Pumps
Outdoor Taps
Garbage Disposals
Dishwasher Installs
Radiant In-Floor Heating installations and design
Ceiling Leaks
Removal of galvanized piping
Instantaneous Hot water heaters
Laundry Taps/Hoses
New Toilets/Sinks/Taps
Sewer Backups
Laundry Drains
Plugged Kitchen Sinks
Floor Drain Backup
Overflowing Toilets
Overflowing Sump Pumps
Plugged Tub/Shower Drains
Basin Plugs
Root Problems
Power Flushing
Video Camera Inspections
Visit our Residential Projects Photo Showcase